Death and Taxes
DevLog 3: WHAT THE HELL JUST HAPPENED
---
Holy CRAP. Ott from Placeholder Gameworks reporting in.
So, today is blog-post day, since it's Wednesday. And somehow we decided that Wednesday is blog-post day. Yayyy. But, it really didn't start out as expected. I was just planning to do a short update on our itch performance so far, plans for future content rollouts and some beeswax about the voice-over demo we got for our main character, Fate. You know... run of the mill stuff. What I did NOT expect was getting woken up by Leene asking me what's up with all the questions on our Facebook page asking "Where can I download this game?". Then we realized that we got featured by GrayStillPlays on YouTube! We were gobsmacked. We tuned in when it had ~150k views but now it's at ~215k... and we hit a 1000 downloads... That's a THOUSAND. In words. Heh-heh. I'll post the stats below in the post if anyone's interested. Also, do check out Gray's page here: https://www.youtube.com/channel/UCzEy7pi3B7TIS9cn_sdKK9A
And you can find the video he made about Death and Taxes here:
First of all, the video is actually bonkers and hilarious. This is exactly the kind of feedback we were hoping for when we started designing the game.. it seems to be quite memeable and judging by the commentary by Gray and the comments under the video, people actually find it funny! WHICH IS EXACTLY WHAT WE WANTED TO GET TO AAAAAH. It's quite mindblowing. And we're still at the demo stage so we kinda feel bad that we don't have more content to show you yet, but rest assured, it's coming. Starting from next Monday, from the 23rd of September, Leene and Ott will enter a 3-month residency at Spelkollektivet in Sweden (check it out here: https://spelkollektivet.com ) where the plan is to get the game out, with the rest of our team putting in the work from Estonia, UK, and other places. Needless to say this is pretty exciting. And getting this kind of coverage right before the trip... well, amazing and inspiring are two words that come into mind.
Okay so we got that bit out of the way. What's next? This week, mostly nothing because there's a lot of logistics to wade through to get to Sweden. And after that? We're gonna start spamming all you guys with our ART. All of the ART. We're going to explain how the art in our game comes to life and what processes our artists use to get from concept to final art and also we're going to start sharing our assets from the very beginning of the game's development. And there is a whole bunch of that. Like, a LOT. There aren't enough #screenshotsaturday events to cover all of that so we're going to start a steady stream of them, so about 2-5 posts per week about art, probably. Later on we will also start sharing stuff from our code development and writing. Oh the writing. Oh yes. That's going to be lit af, as the cool kids say, hopefully.
As promised in the last devlog, we have a sample for you from our voice actor for Fate. It's short and sweet, and we really, really love his rendition. It nails the essence of the character for us - their mystery, dry humour and of course the ennui of being a timeless being. You can take a look at his performance here:
Let us know what you think! Do it here, or on Twitter (https://twitter.com/DeathNTaxesGame) or on Discord (https://discordapp.com/invite/GNHBWSV) or on Facebook (https://www.facebook.com/DeathandTaxesgame)!
And of course, if you're interested in further developments, follow us here on itch or any other channel mentioned above :)
Now for the stats... It's still freaking MIND-BLOWING. LOOK. LOOOOOK *points at numbers furiously*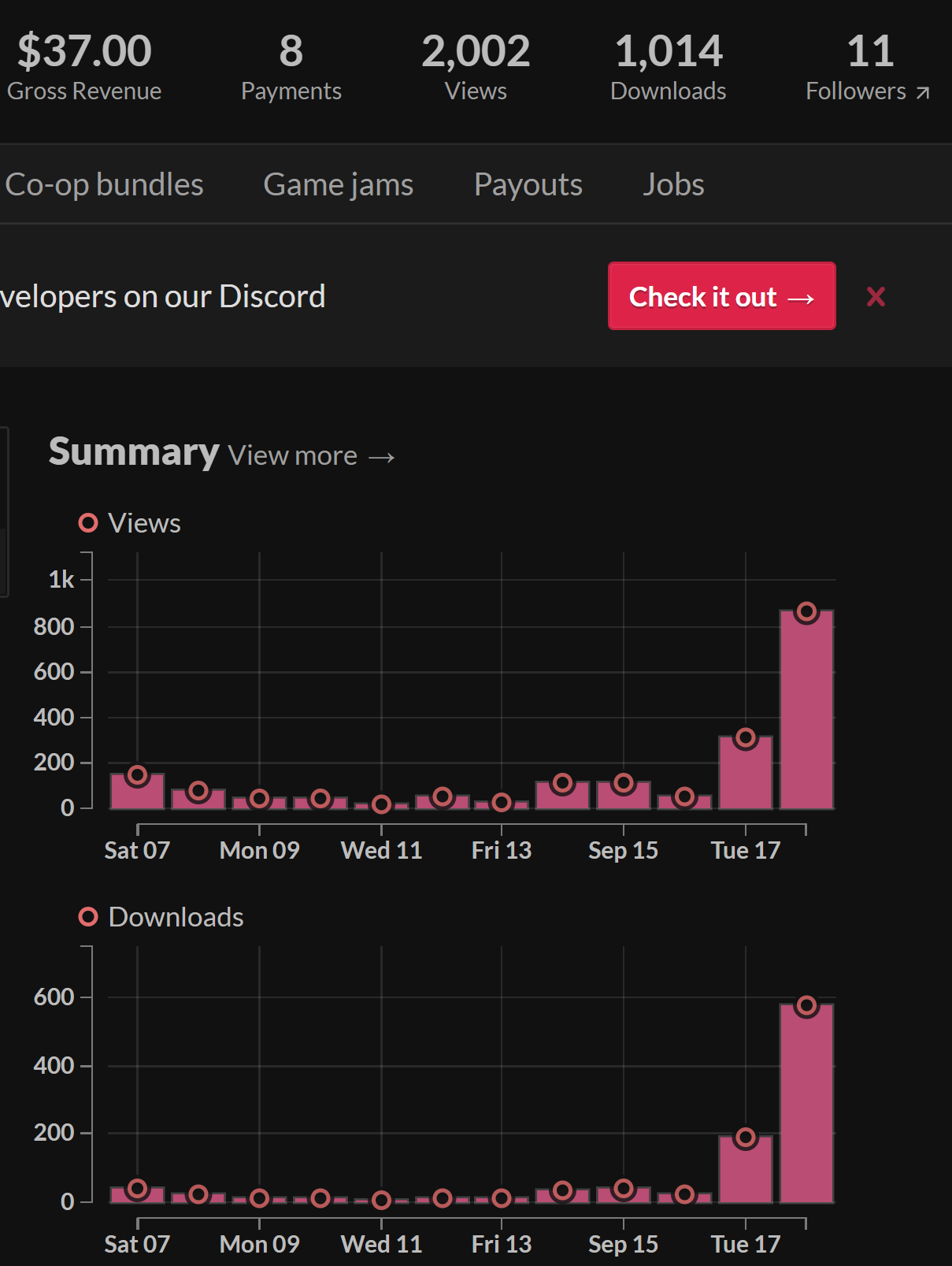 Some of you mad lads donated to us too! I can't stress enough how much this means to us and how inspiring it is! It reinforces the idea that we're actually doing the right things and the right game for you folks. Thank you for your awe-inspiring support, really!
And, well, that's it for today.
Take care and we hope y'all have a great day like we did today. Crazy. Cra-zy. Come back next week for an all-new devlog... from Sweden!
Love,
Death and Taxes