Death and Taxes
Death and Taxes Anniversary FATE BODY PILLOW Raffle!
---
You read that right.
Okay, uhh. Hi. Oak here. Hi grims. I have some explaining to do.

So y'all know that Fate is an absolute stud of a herculean exemplar, and we decided to commission a body pillow.

Yeah. Yep. Wheew. I love it though. And well, y'all did ask for it (if you didn't ask for it, SORRY BUT IT'S HAPPENING ANYWAY). We do have consolation prizes, so, do check it out regardless!

All you gotta do is just CLICK THE LIVING CRAP OUT OF THIS LINK and do the things that the nice giveaway machine asks you to. You don't have to do all of them of course. Or any of them for that matter! BUT IT'S A FREAKING (nearly) LIFE-SIZE BODY PILLOW >_>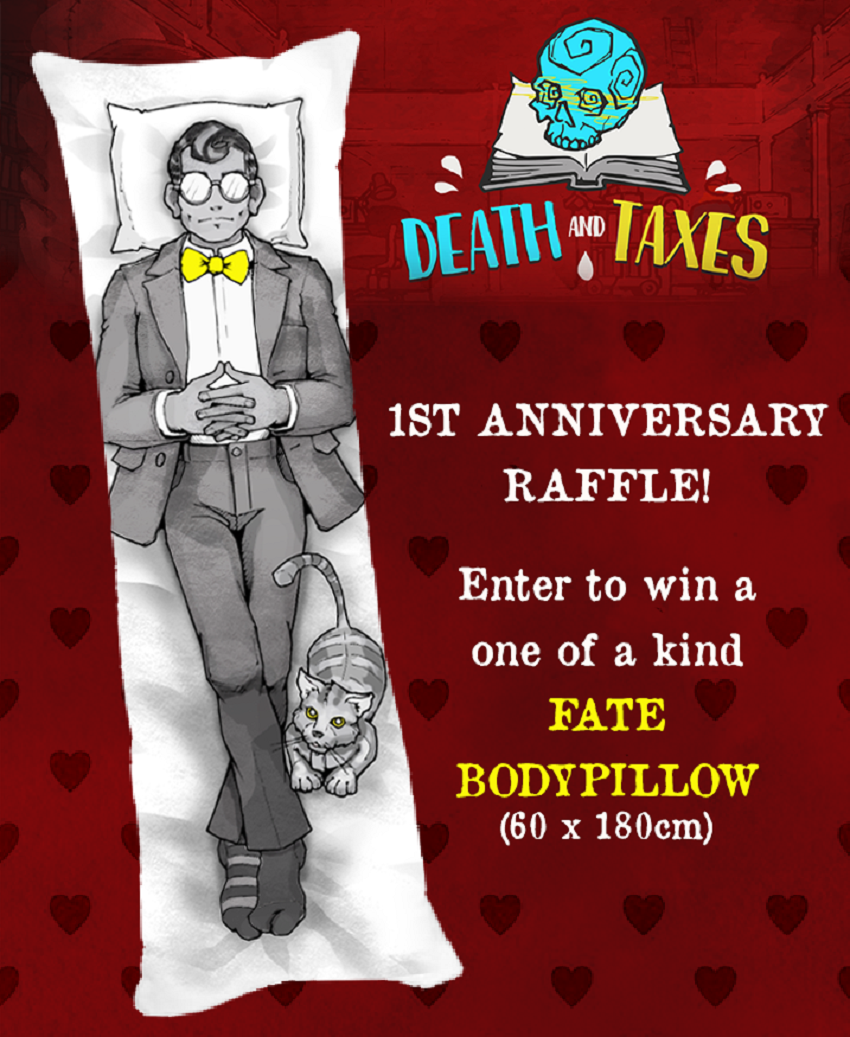 And there's only one of them for now.
Well, that's it! Good luck with the raffle and thanks for sticking around for so far!

(Also, sorry in advance, but gleam doesn't allow for itch.io integration to enter playtime like Steam does x_x)

Much love <3
-Death and Taxes
EDIT: We also have a new build [v1.2.11] for a rare bug where your language gets reset to Brazilian Portuguese every time you launch the game.
Files
DnT WIN FULL VERSION [v1.2.11]
657 MB
Feb 16, 2021
DnT MAC FULL VERSION [v1.2.11]
639 MB
Feb 16, 2021
DnT LINUX FULL VERSION [v1.2.11]
640 MB
Feb 16, 2021